Benefits offered by Resin bonded driveways or patios
Resin bonded driveways in Lancashire or patios offer a large number of benefits to individuals who want to have landscaped gardens in their property but the most important benefit is the aesthetics provided by these driveways. The finished product looks visually appealing and attractive as it is low maintenance as it has no stones that help in maintaining the appearance for a longer duration of time.
When selecting this surface for gardens, individuals prefer resin bonded driveways over the other alternatives because it is slip resistant, quick to lay, looks good and is hard wearing. Hence you can also opt for these driveways for your home as it is the most cost effective option that can complement the interiors and overall look of your home. These driveways also have positive impact on the flood prone areas because of its permeable surfaces. It also offer the benefits of having low carbon footprint and being an eco friendly product that is durable and can last for many years. These [patios are constructed with the use of natural aggregates that are highly permeable and also comply with the necessary government legislation on the sustainable urban drainage. Hence the water in the landscaped gardens can permeate back into the ground as there are no requirements of drainage systems.
Resin bonded driveways in Lincolnshire is far more superior than the traditional drive surfaces like tarmac, printed concrete and block paving as it is frost resistant and weed resistant. It has no loose stones ever and hence you can be rest assured that the driveway will enhance the beauty and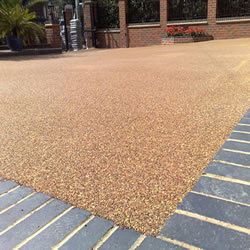 appearance of your property for many years to come. It is also an eco friendly option that is made from natural resins and aggregates. It provides superior walking surface and tyre traction in your garden as you will have the best driveway for your property. These resin bonded driveways in Lincoln are easy to customize according to your requirements as there are a wide range of colors that you can choose for complementing the overall look of your property. You also have the option of selecting from different finishes for creating a smart contrast to your garden. It is also resistant to cracking and hence it is a wheelchair friendly surface as you will have perfectly flat surface that is most appropriate for the elderly. It is also a cheaper alternative to the other surfaces for gardens and hence you can save money with these driveways.